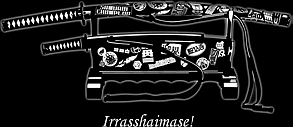 Welcome to where I pay HOMAGE to the animation gods. And, while it may seem a little random, rest assured that it all makes perfect sense to me. Also, please note that artworks are Not for Sale - Enjoy!

News & Updates



10/30/2017
Back from the dead.. kinda
4/29/2006
Added a Ninja Scroll section, 2 new Big O cels, 1 Gunnm cel and some Champloo sketches.
2/8/2006
Added an Outlaw Star section.
10/25/2005
Added a new Big O cel.